Talanoa with Massey University's Malia Tuala
Recently, our director and founder Dr Julia Westera met for a talanoa with Malia Tuala as part of her effective teaching module offered at Massey University to specialist graduate teachers.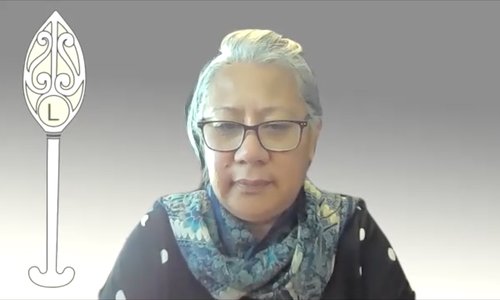 Malia teaches and leads the Pacific focus in the Specialist Teaching post-graduate programme offered at Massey University. Malia is also an associate member of the NZ Pasifika Principals Association and Tautai Pacific RTLB. She describes herself as "Samoan born, South Auckland raised, West Auckland proud".
In the videoclip of the talanoa, Malia and Julia discuss the journey of RT3T™, including why Julia is so invested in making this work for all kids, and how this passion has evolved into the professional teaching and learning approach offered by RTeach with RT3T™ today.
Malia remains excited about how RT3T™ fits perfectly with the turu of Tapasā, the competency framework for Pacific learners.
Turu 1: Identities, languages, and cultures Demonstrate awareness of the diverse and ethnic-specific identities, languages, and cultures of Pacific learners.
Turu 2: Collaborative and respectful relationships and professional behaviours Establishes and maintains collaborative and respectful relationships, and professional behaviours that enhance learning and wellbeing for Pacific learners.
Turu 3: Effective pedagogies for Pacific learners
Malia wrote the following about the talanoa.
It was a pleasure to re-connect with Julia Westera again and to learn about how she is working with schools to grow relational, inclusive and confident communities that are learning and achieving through Reciprocal Teaching.
As a former RTLB I could see the potential and power of RT in 2013 when Julia worked with my RTLB team in Central West Auckland to implement the strategy in several of the schools in our cluster.
Since then Julia has taken it to another whole level and is working alongside school leaders to embed it as a school-wide strategy which includes support and coaching for their teachers by trained facilitators.
As noted by Hattie (2009), Reciprocal Teaching ranked as the third highest impact strategy of 49 teaching strategies, with an overall effect size of d = 0.74, which indicates that this teaching method is extremely effective in improving student achievement (p.203).
As part of the study for students in Massey University's Specialist Teaching programme, Reciprocal Teaching using Julia's RT3T model has been highlighted as an effective teaching strategy. In the video clip we did together, Julia shares her learning from the work she has completed with students, teachers and senior leaders from primary, intermediate and secondary schools in a school-wide approach.
She describes RT as having multiple benefits for students and teachers and is a strategy that encourages inclusive and culturally responsive practice as well as building brain power.
"Reciprocal teaching captures the interplay between teaching and learning. If everyone is both a teacher and learner the brain is activated much more, especially when you are playing the role of the teacher."
If you really want to learn something, teach it.
Julia is passionate about the transformative nature of RT when we see teachers and students learn how to do meaning-making together through student-led challenging discussions. The habits formed are invaluable for learning and leading throughout schooling and for life.
This is important learning for specialist teachers as they support teachers to grow classrooms where students are engaged and empowered.
"It works – you can see it in the first few sessions. You're doing kanohi ki te kanohi and you are just totally vibrant and part of that whole communication; it's powerful and enjoyable and it's training the brain to stay focussed for much longer."
As always, we'd love to hear any comments and questions you have about our mahi and this talanoa.
---
Tags:
multicultural reciprocal reading RT3T Pacific reciprocal teaching