The Evidence Base for Reciprocal Teaching
Reciprocal teaching was developed by two world leading applied researchers in educational and cognitive psychology: Anne Brown and Annemarie Palincsar. At the time it was developed, reciprocal teaching was considered a breakthrough in teaching methods. Reciprocal teaching is now supported by over 30 years of research, and it still stands out as a centre stage teaching method.
As a package, reciprocal teaching combines cognitive / metacognitive methods with interactive, equitable and authentic teaching methods. It is also underpinned by the apprenticeship and the scaffolding approaches.
In his book,Visible Learning, Professor John Hattie ranks Reciprocal Teaching third out of 49 of the most effective teaching strategies.
Exemplar 4: Reciprocal Teaching is part of a Best Evidence Synthesis (BES) series of exemplars featuring teaching strategies that have proven to be highly effective for diverse (all) learners. In it, we describe six different implementations in New Zealand primary, intermediate and secondary schools. These studies include senior primary students with behavioural issues, low decoders, ESOL students, and an entire cohort of 13 year old students in a multicultural secondary school.
When writing this Exemplar we were alerted to integrity concerns raised by the developer, Annemarie Palincsar, and other researchers in educational psychology. These include widespread practices of 'pepperpotting' and 'lethal mutations' with reciprocal teaching. Our teachers talk about 'dabbling' with this method being common here. The consequence can be nil or negative results for our students.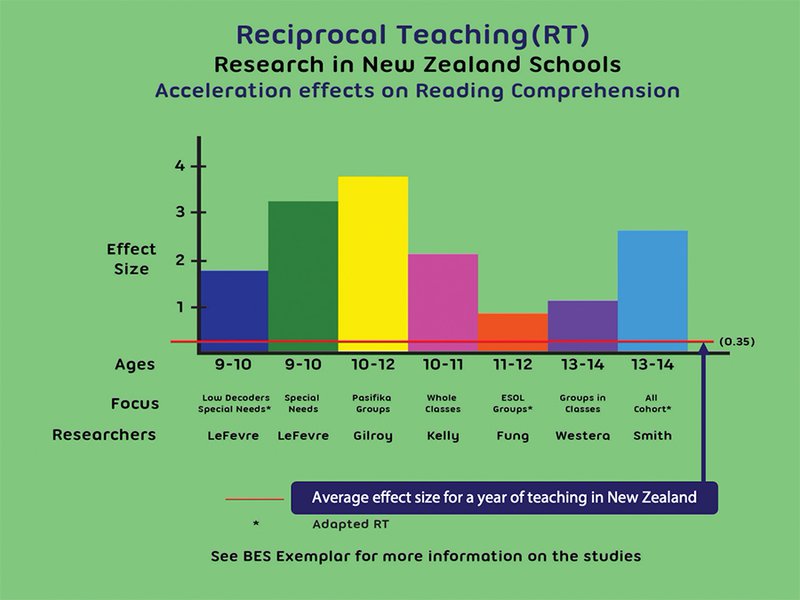 This bar graph shows the results of these research studies in comparison with 'teaching as usual', which is represented by the red line for the average effect size for a year of teaching in New Zealand. Overall the bar graph shows how effective reciprocal teaching can be with a wide range of students. Most impressive are the results for a whole cohort of Year 9 students, who made very significant gains in higher order thinking skills (asTTle Reading, deep features) through 15 or more 30 minute sessions in a skilled coaching team approach.
In summary, if done with integrity, Reciprocal Teaching is a very strong performer.
Read more about integrity issues at this reference:
Annemarie Sullivan Palincsar & Kristine M. Schutz (19 Apr 2011).
Reconnecting Strategy Instruction With Its Theoretical Roots
http://dx.doi.org/10.1080/00405841.2011.558432
And for the BES Exemplar 4 on Reciprocal Teaching:
https://www.educationcounts.govt.nz/
---
Tags:
graphs accelerated learning thinking skills teamwork literacy 2014 reciprocal reading teaching strategies collaborative learning RT3T evidence base pedagogy evidence-based reciprocal teaching