Reciprocal Teaching at Oranga School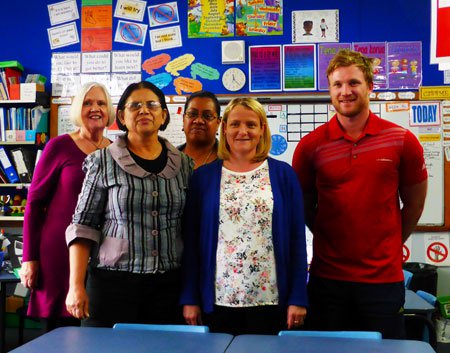 Updates from recent New Zealand research
Oranga Primary School participated in a Best Evidence Synthesis (BES) – supported research project as an RTeach Institute pioneer research & development school.
Five Year 4 to 6 classes in this multicultural primary school, with predominantly Pasifika students, participated.
In this study (Westera, 2014), modern Reciprocal Teaching (RT3T™) was implemented through coaching intensives by a skilled trained teaching team. This approach was similar to that taken in a large study completed with an entire cohort of Year 9 secondary students (Alton-Lee, Westera & Pulekatoa-Diggins, 2012; Smith, Timperley & Francis, 2011).
In both studies, students made significant gains in reading comprehension, and, specifically, in higher order thinking skills (deep features, asTTle).
These results were for all student groups, irrespective of the student's age, ethnicity, gender or prior achievement level.
Thank you, ORANGA SCHOOL. Thank you, students and staff – for your timely dedication and assistance with this research study.
What Diana Peri, Principal of Oranga School, is saying
The updated Reciprocal Teaching method has many benefits for children and for teachers. For teachers, the evidence-based programme provides in-depth, responsive strategies that foster deep thinking, problem solving and self-management.
While this has been used primarily for the teaching of reading at Oranga School, the potential for using the strategies in other learning areas has been recognised.
Students at Oranga School responded with enthusiasm and accelerated progress. They reported a greater sense of self-confidence and agency, and enjoyment in their learning.
---
Tags:
multicultural primary school thinking skills 2015 literacy quotes reciprocal reading teaching strategies RT3T evidence base Pacific reciprocal teaching reading